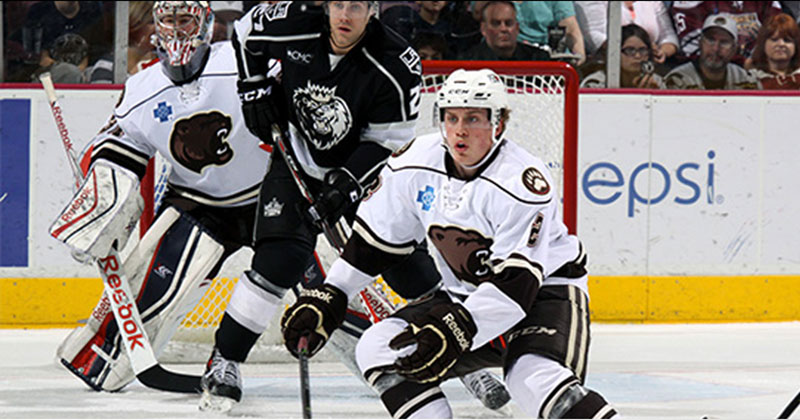 12/16 Game Preview: Bruins at Bears, 7 p.m.
December 16, 2017
Providence Bruins (17-7-2-0) at Hershey Bears (12-13-0-3)
Saturday, December 16, 2017, 7 p.m
Giant Center
REFEREES: Peter Schlittenhardt (12), Chris Pontes (21)
LINESMEN: Tom George (61), Bob Goodman (90)
Broadcast Information (Pre-game 6:30 PM)
RADIO: WQIC-100.1 FM, Fox Sports 1460-AM, WOYK 1350-AM, Listen at the Giant Center via 88.9 FM, Hershey Bears App--Zack Fisch, the Voice of the Bears, and Freddy Cassivi on the call
LISTEN LIVE: Fox Sports AM-1460 Stream
WATCH LIVE: AHLLive.com

AHL STANDINGS
AHL MEDIA KIT FOR TONIGHT'S GAME

BRUINS AT BEARS: The Hershey Bears host the Providence Bruins this evening for Hall of Fame Night. Tonight's game closes a four-game homestand for Hershey. The Bears are looking to get back into the win column after dropping the past two contests, including a 3-0 decision to Providence on home ice Wednesday. Tonight is Providence's final visit of the season to the Giant Center. The Bruins are 8-2-0-0 over the past 10 games, but are coming off their first loss since Nov. 25 as they fell at Syracuse last night, 5-3.

HALL OF FAMERS: Tonight is Hall of Fame Night, and Hershey welcomes four individuals as the Hershey Bears Hockey Club Hall of Fame Class of 2017. Honored by the Hershey Bears Hockey Club Hall of Fame Committee as the sixth group of enshrinees are Dave Fenyves (player), Andre Gill (player), Doug Yingst (builder) and Randy Waybright (general). Dave Fenyves played for the Bears from 1987-93 and is ranked fourth in club history in scoring among defensemen (217 points in 359 games). Andre Gill played for the Bears from 1962-72 and ranks third in club history in goalie wins (139), third in goalie games played (309) and sixth in shutouts (12). Yingst worked in Hershey's front office from 1982 until his retirement in 2016 and was part of five Calder Cup championships (1987-88, 1996-97, 2005-06, 2008-09 and 2009-10) during his 34-year tenure. Waybright worked 48 seasons as Hershey's supervisor of off-ice officials, leading a crew widely recognized as the best in the AHL.
LAST TIME OUT: Hershey is coming off a 3-0 loss to Providence on Wednesday evening at the Giant Center. Providence's Zane McIntyre stopped all 28 shots he faced as the Bruins earned the win. Providence got goals from Colton Hargrove, Anton Blidh, and Zach Senyshyn in the victory despite being outshot 28-20.The loss marked the first time the Bears had been shut out on home ice since Nov. 14, 2015 when Bridgeport goaltender Chris Gibson stopped 28 shots in a 5-0 whitewashing of Hershey. The Bruins were in action last night as their eight-game win streak was snapped in a 5-3 loss at Syracuse. The Crunch, winners of 10 straight, scored four straight goals after trailing 2-1 to pull away for the win. The Bruins got goals from Anton Blidh, Josh Hennessy, and Zach Senyshyn in the loss.
MVP BATTLE: The last two winners of the Les Cunningham Award as the American Hockey League's Most Valuable Player take the ice tonight. Hershey's Chris Bourque was the winner of the award in the 2015-16 season, finishing with a league-best 80 points (30 goals, 50 assists). Last year, Kenny Agostino, now a member of Providence, led the AHL in scoring with 83 points (24 goals, 49 points) as a member of the Chicago Wolves. Agostino has 15 points (six goals, nine assists) in just 19 games this season as he has spent significant time with the NHL's Boston Bruins. Bourque meanwhile is on pace for another MVP season, leading the AHL with 32 points (11 goals, 21 assists).
MARGONARI JOINS BEARS: The Bears announced Friday that forward Dylan Margonari has been recalled from the club's ECHL affiliate, the South Carolina Stingrays. Margonari, 25, tallied 15 points (eight goals, seven assists) and posted a +10 rating in 23 games with the Stingrays this season. On Tuesday, the Greensburg, Pennsylvania native was named the Sher-Wood Hockey ECHL Player of the Week. In his rookie season last year, Margonari was limited to just 23 games with the Stingrays after suffering a neck injury on Jan. 28 versus Florida. The 6-foot-1, 190-pound forward has made a full recovery, and returned to the Stingrays lineup on Oct. 20. Margonari played two games with Hershey at the end of the 2015-16 season after finishing his senior season at Minnesota State University, Mankato. He made his AHL debut on Apr. 16 vs. Lehigh Valley.
GOALIE PARTNERS: Tonight's game could feature a matchup of Pheonix Copley and Jordan Binnington between the pipes for their respective clubs. The two netminders spent two seasons as goaltending partners with the AHL's Chicago Wolves during Copley's tenure with the St. Louis Blues organization. In 2015-16, Binnington played 41 games with Chicago and Copley appeared in 39, with the latter posting the best numbers with a 2.79 goals against average and a .909 save percentage. The two split the net again last season, with Binnington going 16-7-8 with a 2.71 goals against average, and Copley going 15-6-3 with a 2.31 goals against average and .920 save percentage before being traded to the Washington Capitals on Feb. 27. Despite playing with Providence, Binnington remains property of St. Louis, as he was loaned to Providence since the Blues do not have an AHL affiliate this year.
BEARS-BRUINS FAST FACTS: Hershey forward Jeremy Langlois is week-to-week with an upper-body injury…Boston assigned forward Matt Beleskey to Providence on Friday after he cleared waivers. Beleskey is in the third year of a five-year, $19 million contract he signed with the Bruins in 2015…The Bears are 7-1-0-3 when scoring first this season, but just 5-12-0-0 when playing from behind…Hershey is looking to avoid a third straight loss at Giant Center. The last time the Bears lost three straight games on home ice in the regular season was Jan. 15-22 of last season.
---