HERSHEY BEARS CARES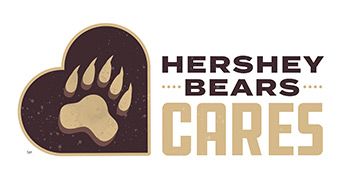 The Hershey Bears Cares platform was established in 2018 with the purpose of showcasing the philanthropic activities and volunteer efforts of our Bears players and staff members throughout the community. For more than 81 years, the Hershey Bears have been active in the community and value giving back to Hershey and surrounding areas.
View the Report
2019-20 Hershey Bears Community Programs
Hershey Bears give back to the Central PA region through a variety of programs and partnerships designed to encourage health, wellness, literacy, and charity within the community.
Hershey Bears hockey club donates a portion of the sale of all jersey auctions to a number of area nonprofits organizations as part of its community-focused Hershey Bears Cares initiative. Beneficiaries for the 2019-2020 season are ASHA, CPIHL, Caitlin Smiles, Falcon Packs, American Cancer Society, Hospice of Central PA, Lebanon, and Dauphin County Library Systems.
---

Roaring to Read was formed to motivate youth in the community to develop a love for reading and promote the value, importance and enjoyment of reading and literacy among students in kindergarten through fifth grade. The Hershey Bears connect with numerous elementary schools in the Central PA area to incentivize students with a complimentary ticket to a Bears home game once the student completes their school's reading challenge.

The Hershey Bears Wellness All-Stars program is designed to encourage exercise and healthy nutrition into the daily lives of children from kindergarten through Middle School. The Hershey Bears work with various partners in the community to develop incentive programs.
The following programs are part of Wellness All-Stars:
---
Request For Donations
If you are a not-for-profit organization seeking support from the Hershey Bears, please reference the following eligibility requirements.
---