HERSHEY BEARS CARES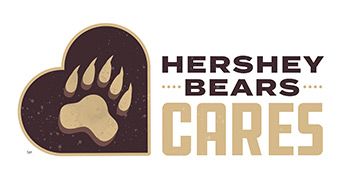 For more than 84 years, our Hershey Bears® hockey team of the American Hockey League has been thrilling fans on the ice. Off the ice, they have long been active in the community, making a positive difference. Since 2018, the Hershey Bears Cares℠ charitable initiative has been the platform to highlight the organization's community outreach. In a typical season, our players, coaches and team members conduct various community-focused activities throughout the area.
View the Report
2022-23 Hershey Bears Community Programs
Long active in the community, the Hershey Bears players, coaches, and staff recognize the impact they make and the importance of connecting with Central PA students and community members. The team participates in a variety of programs and partnerships designed to encourage health, wellness, literacy, and charity.
---

Roaring to Read
Roaring to Read was formed to motivate youth in the community to develop a love for reading and promote the value, importance and enjoyment of reading and literacy among students in kindergarten through fifth grade. The Hershey Bears connect with numerous elementary schools in the Central PA area to incentivize students with a complimentary ticket to a Bears home game once the student completes their school's reading challenge.

Hometown Heroes
Each fall season, the Hershey Bears honors our military personnel through our annual Hometown Heroes game with its Seats for Soldiers & Veterans program. If you would like to purchase tickets that will then be donated to our military families, please visit our Group Sales page for more information. Seats for Soldiers sponsorship packages are also available.

Wellness All-Stars
The Hershey Bears Wellness All-Stars program is designed to encourage exercise and healthy nutrition into the daily lives of children from kindergarten through Middle School. The Hershey Bears work with various partners in the community to develop incentive programs.
The following programs are part of Wellness All-Stars:
Penn State PRO Wellness educates and inspires youth and their families to become champions for healthy life choices. The Hershey Bears are happy to partner with Penn State PRO Wellness by providing a complimentary ticket to a Bears home game for elementary and middle school students who participated in one of their schools Healthy Champions signature events (Walk to School Day and Apple Crunch.)
Learn more about the PRO Wellness Healthy Champions program
---
Request For Donations
If you are a not-for-profit organization seeking support from the Hershey Bears, please reference the following eligibility requirements.
---