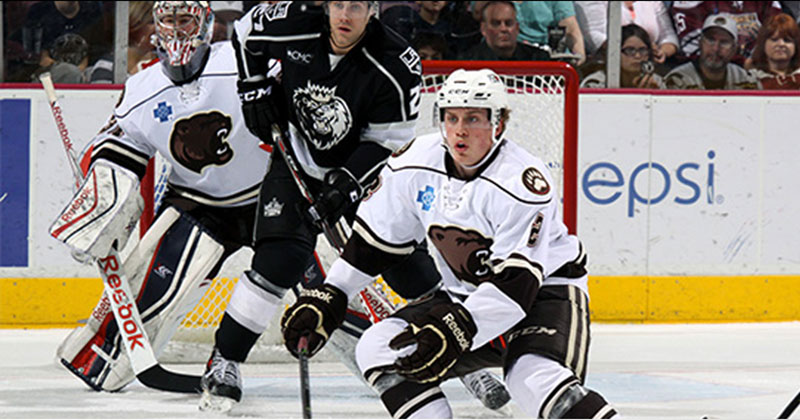 Game Preview: Phantoms at Bears, 7 p.m.
December 9, 2017
Lehigh Valley Phantoms (15-7-1-2) at Hershey Bears (11-11-0-3)
Saturday, December 9, 2017, 7:00 p.m
Giant Center
REFEREE: Alex Normandin (68)
LINESMEN: Jason Mandroc (17), Jud Ritter (34)
Broadcast Information (Pre-game 6:30 PM)
RADIO: WQIC-100.1 FM, Fox Sports 1460-AM, WOYK 1350-AM, Listen at the Giant Center via 88.9 FM, Hershey Bears App--Zack Fisch, the Voice of the Bears, and Freddy Cassivi on the call
LISTEN LIVE: Fox Sports AM-1460 Stream, Caps Radio 24/7
WATCH LIVE: AHLLive.com

AHL STANDINGS
AHL MEDIA KIT FOR TONIGHT'S GAME

PHANTOMS AT BEARS: The Hershey Bears return to the Giant Center this evening to finish a home-and-home with the rival Lehigh Valley Phantoms. Lehigh Valley has won two straight games versus the Chocolate and White, including taking a 5-4 decision at the PPL Center last night. Tonight's contest starts a four-game homestand for the Bears.
LAST NIGHT: The Hershey Bears scored three goals in the third period, but the comeback attempt fell short, as the Lehigh Valley Phantoms pulled away with a 5-4 victory Friday night at the PPL Center. Just 1:24 into the third period Hershey trailed 5-1 after Greg Carey scored his 13th goal of the season for the Phantoms. However, the Bears roared back with three straight goals. Looking like they were down and out, Hershey started a comeback. Only 30 seconds following Carey's goal, the Bears cut the deficit to 5-2 courtesy of Lucas Johansen's fourth goal of the season. Then, at 6:10, Hershey's Mathias Bau crept into the slot and buried a sub-goal line pass from Simpson to suddenly pull the Bears within two. In the final three minutes, goalie Vitek Vanecek vacated the Bears' net in exchange for the extra attacker, and the move paid dividends. At 17:32, Aaron Ness blasted a center point shot to pull Hershey within one. Despite a 6-on-4 power play in the final minute with Vanecek back on the bench, Hershey was unable to find the equalizer. The Phantoms outshot Hershey 26-23 in the win.
CENTURY MARK FOR SIMPSON: Hershey forward Wayne Simpson notched his 100th career AHL point last night, assisting on Lucas Johansen's third period goal. Simpson would finish the night with three assists, tying his career high in both assists and points. The contest was the third multi-point game of the season for the winger. Simpson ranks third on the club with 16 points (five goals, 11 assists) this season. He has 102 career points (30 goals, 72 assists) in 173 AHL games with Providence, Portland, and Hershey.
SILL SIZZLES: Hershey center Zach Sill tallied a pair of assists in last night's 5-4 loss at Lehigh Valley. For Sill, it was his first multi-point game of the season, and his first two-point night since he struck for a goal and an assist on Dec. 26, 2016 versus Lehigh Valley. The two assists also tied a career-best for the veteran forward, marking the seventh time in his AHL career that he has struck for a pair of helpers. Sill has seven points (one goal, six assists) in 25 games this season.
STREAKING NESS: Since returning to the Bears last week, defender Aaron Ness has made a giant impact on Hershey's lineup. The veteran defender is in the midst of a three-game point streak. Last Saturday, Ness scored his first goal of the season in a 3-0 win over Milwaukee. The next night, he tallied two assists in the overtime win versus Wilkes-Barre/Scranton. Last night, Ness scored late in the third period for Hershey. The defender has four points (two goals, two assists) in four games with the Bears this season.
GRAOVAC IS BACK: The Washington Capitals announced Friday that forward Tyler Graovac was re-assigned to the Hershey Bears. Graovac, 24, returns to Hershey after previously joining the Bears on Nov. 14 on a long-term conditioning loan. During the loan, Graovac appeared in four games with Hershey, scoring two points (one goal, one assist) with a +2 rating. In 206 career AHL games with Iowa and Hershey, Graovac has scored 104 points (50 goals, 54 assists). The forward has skated in five games with the Capitals this season. The 6-foot-5, 208-pound center was acquired by the Capitals from the Minnesota Wild on Jun. 14 for a fifth-round selection in the 2018 NHL Draft.

BEARS-PHANTOMS FAST FACTS: Lehigh Valley assistant coach Kerry Huffman is a former Bear. The defender played for Hershey in 1986-87, 1988-89, and 1990-91...Last night was a rarity for Hershey goaltender Pheonix Copley. The netminder was removed after allowing three goals on 14 shots, marking the first time in his 68 game (regular season and playoffs) Hershey career he had been pulled from a game. Copley had previously not finished three of his starts with the Bears, one due to ejection in a line brawl versus Bridgeport in 2015, and twice due to injury last season…Lehigh Valley will get two-time Eddie Shore winner T.J. Brennan back on the blue line tonight. The defender missed last night's game after not arriving back in time for puck drop after a recall to the Flyers …Hershey's penalty kill has been perfect for four straight games (6-for-6) and has not surrendered a goal in six of the last seven contests.
---