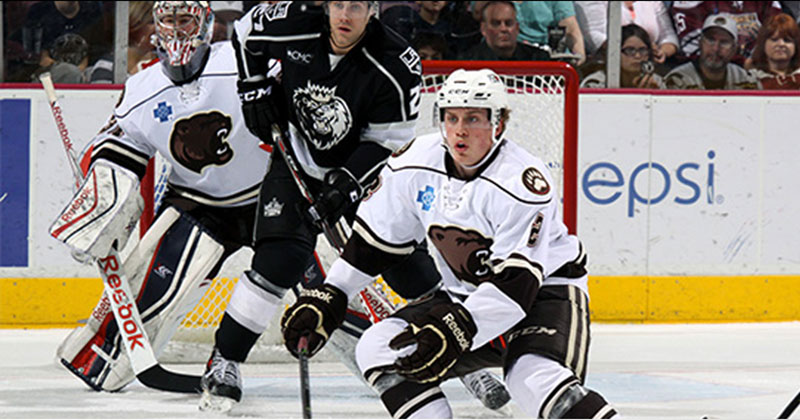 Bourque, Copley Lead Bears to OT Win in Game 3
May 11, 2017
Chris Bourque scored his second goal of the game at 7:14 of overtime, and netminder Pheonix Copley made 39 saves to lead the Hershey Bears to a 2-1 victory in Game 3 of the Atlantic Division Finals on Thursday night. Despite being outshot 40-15, Hershey took a 2-1 lead in the best-of-seven series with the victory at the Dunkin' Donuts Center.

Copley held Hershey in the game all evening long. The netminder faced 12 shots in all three periods, and also turned aside all four shots he faced in overtime. He played a large part in Hershey's perfect penalty kill, which went 6-for-6 on the evening, and held Providence off the scoreboard on chances late in the regulation and in overtime.

Copley's strong play setup Hershey's comeback. With Hershey trailing 1-0, Bourque struck for his first of two goals early in the third period. The Bears worked the puck around on the power play, and Travis Boyd's shot to the net was blocked. The rebound popped loose to Bourque on the right wing, and the forward fired a shot past an outstretched Zane McIntyre to tie the game, 1-1. Christian Djoos also assisted.

For the second straight game of the series, overtime was required, and for the second straight contest, it was Hershey who came out victorious. After killing a minor penalty, Hershey drew a power play of their own. The Bears took advantage, and Bourque ended the affair, stunning the crowd of 4,512 at the Dunkin' Donuts Center. Nathan Walker got the puck to Bourque along the right wing. The forward cut to the net and snapped a shot over the glove of McIntyre to give Hershey the win.

The win was Hershey's third victory of the playoffs when trailing after two periods. The Bears only had two wins when trailing after two periods during the entire 2016-17 regular season. Hershey is a perfect 4-0 on the road in the playoffs, and are now 3-1 in overtime during the postseason.

Hershey was 2-for-5 on the power play, while Providence was 0-for-6.

The Bears continue the Atlantic Division Finals tomorrow in Providence with Game 4 at 7:05 p.m. at the Dunkin' Donuts Center. The game may be heard on the Bears Radio Network and viewed on AHLLive.com.


---