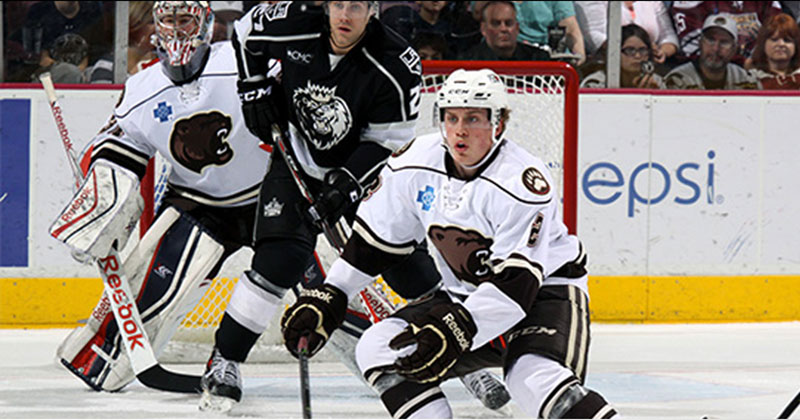 BEARS TAKE DOWN PHANTOMS TO EXTEND POINT STREAK
November 6, 2015
ALLENTOWN, Pa. – Carter Camper and Sean Collins each posted two points and Dan Ellis made 20 saves, helping the Hershey Bears claim a 4-2 win over the Lehigh Valley Phantoms on Friday night at PPL Center.
The Phantoms would strike first while the two teams were skating four-on-four. Veteran Tim Brent dropped a pass to the center point and headed to the slot for a screen. Shayne Gostisbehere's low blast slid through Brent, the puck deflected off of the stick of Aaron Palushaj and blooped over Ellis at 7:58.
Just under four minutes later, Hershey would knot the score. Collins forced a turnover with a poke check, and Camper quickly pounced on the puck. His backhand pass found its way to the slot where Stan Galiev stepped into a shot that beat Jason LaBarbera at 11:18.
After both teams missed on five-on-three power play opportunities, the Bears would grab their first lead of the game late in the second period. Ryan Stanton upended Palushaj along the boards, and the puck came back to the neutral zone where Connor Carrick would spring Nathan Walker on a breakaway. Walker snapped a shot past the stick side of LaBarbera at 18:41 for a 2-1 advantage.
Hershey's third period success continued when Camper deflected Stanton's shot from the left half wall through LaBarbera's pads at 1:03, giving the Bears a 3-1 edge.
Lehigh Valley cut the deficit to 3-2 when Tyrell Goulbourne one-timed a pass from Kevin Sundher past Ellis at 4:28, but Chris Bourque's empty-netter with just under 51 seconds remaining sealed the win.
Ellis improved to 3-2-1 with the win, while LaBarbera dropped to 1-4-0 in making 24 saves on 27 shots. Hershey finished 0-for-6 on the power play and 4-for-4 on the penalty kill.
The Bears return home tomorrow, November 7 to battle the St. John's IceCaps. Individual tickets for this and all Bears home games are on sale at the GIANT Center box office, by calling 717-508-BEAR or online at TicketMaster.com.
NOTES: ; The Bears scratched D Madison Bowey, C Austin Fyten, RW Caleb Herbert and LW Jakub Vrana…The Phantoms scratched RW Cole Bardreau, C Nick Cousins, D Robert Hagg, RW Derek Mathers, RW Colin McDonald, RW Michael Parks, D Jesper Pettersson, D Logan Pyett and LW Jay Rosehill…Nathan Walker has posted goals in back-to-back games for the first time in almost two years (three goals, 11/13/13 and 11/14/13 at Charlotte)…Chris Bourque's goal extended his point streak to four games (2-4-6)…The Bears won back-to-back road games for the first time this season to improve to 4-3-0-0 away from home…The Bears have points in four consecutive games with the win (3-0-0-1).
---