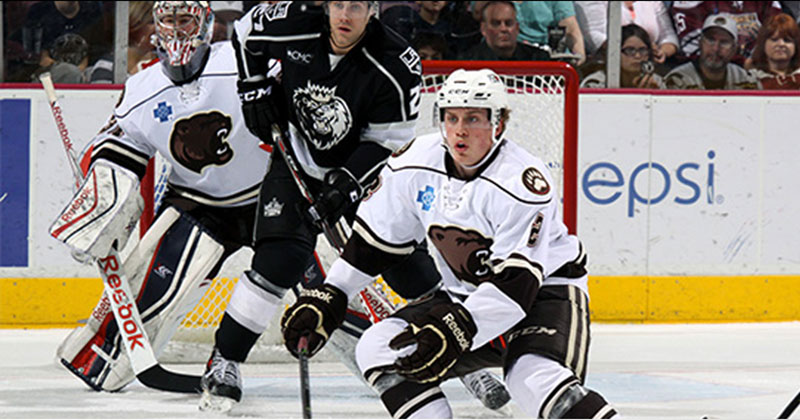 DEVILS TAKE PRE-SEASON OPENER IN PHYSICAL AFFAIR
October 1, 2015
HERSHEY, Pa. – Nathan Walker netted a shorthanded goal for the Hershey Bears, but Albany Devils goaltender Ken Appleby made 28 other saves, including several with time winding down, helping the visitors to a 2-1 victory on Thursday night at GIANT Center.
The opening period ended scoreless but was not without chances for both teams. Hershey had the advantage in possession for most of the period but not until after a turnover in front of backstop Vitek Vanecek was swatted aside.
The Bears' best chance came on a two-on-one rush between Riley Barber and Carter Camper. Barber fed a cross-crease pass to Camper, whose slam-dunk attempt was held against the left goal post by the pad of Albany goaltender Ken Appleby.
A late first-period penalty assessed to the Bears would carry over into the second period, and with two seconds left on the Albany power play, Max Novak slammed home a feed from Raman Hrabarenka for a 1-0 Devils lead.
The Devils embarked on another power play moments later, but it would be the hosts to light the lamp. Garrett Mitchell and Nathan Walker took off two-on-two, and Walker was able to gain a step on a Devils defender and redirect Mitchell's pass behind Appleby.
The score was even until late in the third, when the Devils broke into the Hershey zone. Joseph Blandisi sent a pass from the left wall to a cutting Blake Coleman, who got two taps at the puck to bang it past Vanecek at 13:27.
Tempers flared later in the frame, with three players ejected from the game with under four minutes remaining.
Appleby made a sliding two-pad stack save on Jakub Vrana to preserve the win, while the Bears skated with the extra attacker.
Vanecek stopped 21 of 23 shots faced in the setback.
The Bears will host the Wilkes-Barre/Scranton Penguins on Saturday, October 3, in Hershey's final game of the short pre-season slate. Face-off is set for 7:00 PM. Individual tickets may be purchased at the GIANT Center box office, by calling (717) 508-BEAR or online at TicketMaster.com. Tickets are $12.00 each for general admission and parking at the complex is free.
---