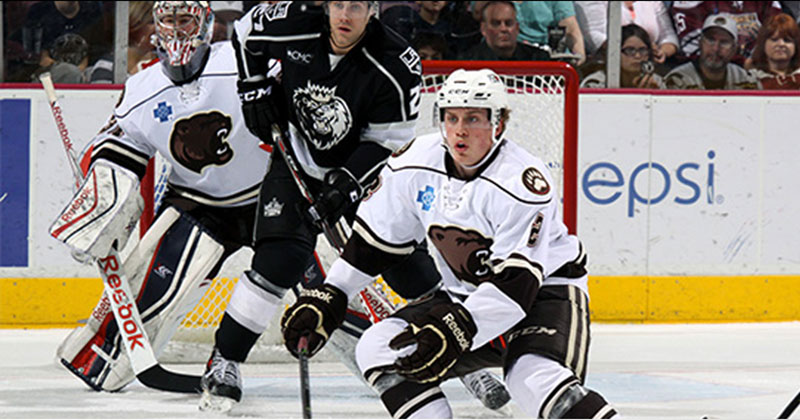 SHARKS FORCE GAME FOUR WITH 4-1 VICTORY
Watch Now
April 29, 2015
HERSHEY, Pa. – Chris Tierney scored the game-tying goal and picked up another assist and Troy Grosenick made 27 saves in his postseason debut, helping the Worcester Sharks live to see a Game Four in the Eastern Conference quarterfinals with a 4-1 win over the Hershey Bears on Wednesday night at GIANT Center.

A lot of credit has been given to the line of Liam O'Brien, Garrett Mitchell and Chandler Stephenson in recent weeks, and the praise was backed up just 3:13 into the game when the trio combined on a hard forecheck that put the Bears in front. Grosenick faced Mitchell, who was stickhandling toward the net from the left circle. Mitchell slipped a short drop pass to O'Brien, who ripped the puck past Grosenick for his first career playoff goal.

Worcester would then turn the complexion of the game around in the second period, scoring twice in a span of 2:54 to take a 2-1 lead. On the visitors' third power play of the game, Daniil Tarasov fed a diagonal pass to the top of the right circle for Dylan DeMelo. A second quick pass found Tierney at the top of the crease for a slam-dunk past Pheonix Copley at 1:01.

Ryan Carpenter then lifted the puck out of a goal-mouth scramble at 3:55 over a sprawled Copley, putting Worcester in front for the first time since the second period of Game Two.

More penalties doomed the Bears in the third, as the club found itself down two players for a span of 1:24. On the two-man advantage, Taylor Fedun took a pass from Tierney and fired a slap shot through traffic and past Copley at 5:37, putting the Sharks ahead 3-1.

Micheal Haley capped off the scoring by hitting the empty net at 19:53.

Copley drops to 2-1 in the postseason with 29 saves on 32 shots.

With the Bears now ahead two games to one, Game Four of the Eastern Conference quarterfinal series between the Bears and Sharks will be played on Friday, May 1 at 7:00 PM. Individual tickets for this game (Game "BB") are on sale at the GIANT Center box office, by calling (717) 508-BEAR or online at TicketMaster.com.

NOTES: The Bears scratched C Joel Broda, LW Philippe Cornet, D Tomas Kundratek and D Steve Oleksy… Worcester scratched G J.P. Anderson, D Julius Bergman, LW Jimmy Bonneau, LW Daniel Ciampini, RW Willie Coetzee, D Taylor Doherty, RW Daniel Doremus, RW Petter Emanuelsson, LW John McCarthy, RW Trevor Parkes, D Joakim Ryan and RW Matt Willows…Hershey finished the night 0-for-4 on the power play and 4-for-6 on the penalty kill…LW Liam O'Brien's goal gives him points in all three playoff games (1-2-3)…Garrett Mitchell's assist makes him the 14th Bears player to find the score sheet in the three-game series to date.


---