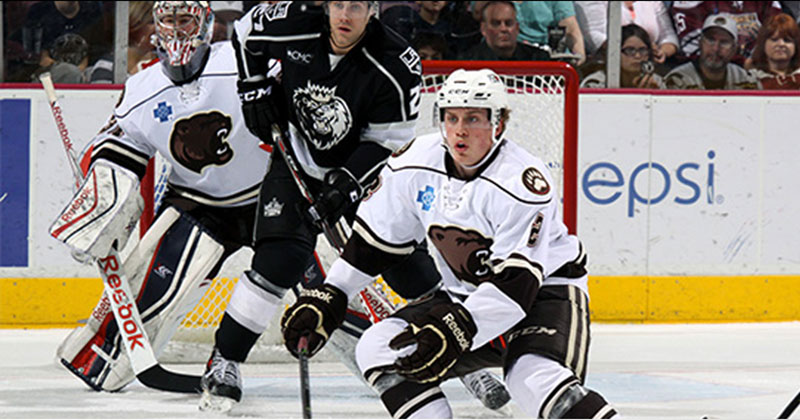 GRUBAUER GIANT IN 1-0 WIN OVER WORCESTER
November 22, 2014
HERSHEY, Pa. – Chris Brown returned from NHL recall and scored the game's only goal, while Philipp Grubauer turned aside a season-high 38 shots on goal to help the Hershey Bears defeat the Worcester Sharks by a 1-0 count on Saturday night at GIANT Center.

Following a successful penalty kill featuring a tremendous point-blank save by Grubauer on Daniil Tarasov, the Bears were about to earn their first man advantage of the game. With Grubauer replaced by a sixth attacker, Tomas Kundratek sent a pass into the right corner. Chandler Stephenson picked it up, passed to the center of the zone where Brown waited to one-time it over the blocker of Sharks goaltender Aaron Dell at 16:38.

It was all Grubauer, the Hershey defense and penalty kill the rest of the way, as the goaltender turned aside 27 of the total 38 shots over the final two periods to keep the Sharks off the board.

Grubauer picked up his seventh career shutout and second of the season to improve to 6-4-2. Dell dropped his first Worcester start with 19 saves on 20 shots to fall to 0-1-0.

The Bears remain home to host the St. John's IceCaps tomorrow, November 23 at 5:00 PM. The first 3,500 fans get a Hershey / CKC Pharmacy gift card. It is another Dietz & Watson Dollar Dog Night, and all fans may purchase hot dogs for $1 at select GIANT Center concession stands. The Bears will also wear special "Movember" theme jerseys which will be auctioned off live following the game.
Tickets for this game and all home contests may be purchased at the GIANT Center box office, by calling (717) 508-BEAR or online at TicketMaster.com. Information on group tickets and season tickets for the 2014-2015 Hershey Bears regular season is available by calling (717) 508-BEAR. Many different flexible plans are offered and start as low as $170.

NOTES: The Bears scratches were D Michal Cajkovsky, RW Caleb Herbert, D Mike Moore, LW Tim Spencer, LW Nathan Walker and D Patrick Wey…The Sharks scratched D Dylan DeMelo, RW Petter Emanuelsson and C Evan Trupp… Three stars: 3-Stephenson, 2-Brown, 1-Grubauer...The Bears finished the night 0-for-2 on the power play and 4-for-4 on the penalty kill.


---