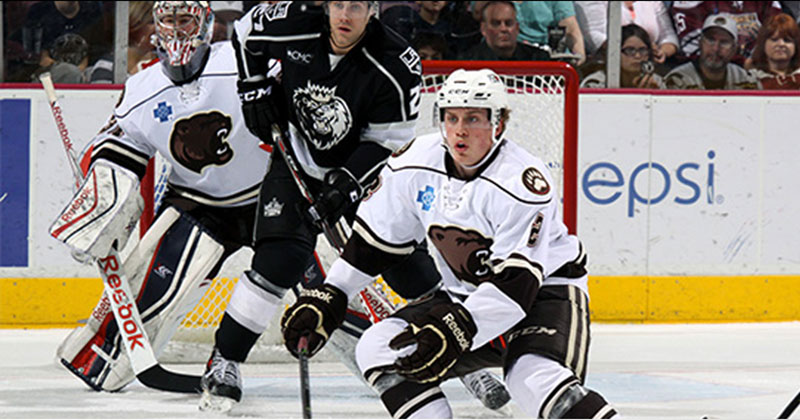 BEARS NAME RYAN MOUGENEL ASSISTANT COACH OF HOCKEY CLUB
July 5, 2013
HERSHEY, Pa. – The Hershey Bears announced today that Ryan Mougenel (moo-zhuh-NEL) has been named assistant coach of the Hockey Club beginning with the 2013-14 season. The announcement was made by Bears President/GM Doug Yingst.

Mougenel, 37, comes to Chocolatetown after a four-year stint as head coach of the ECHL's Las Vegas Wranglers. His head coaching record features an all-time mark of 151-111-10-16 and appearances in the Kelly Cup playoffs during all four seasons in Nevada from 2009 to 2013, including the 2012 Western Conference championship.

The native of Scarborough, Ontario previously served as assistant coach for four seasons with the ECHL's Fresno Falcons and Stockton Thunder.

Mougenel's last playing action came during the 2002-03 season, when he posted 35 points (15 goals, 20 assists) in 53 games with the ECHL's Atlantic City Boardwalk Bullies. He went on to capture the 2003 Kelly Cup championship, under the guidance of his former head coach and current colleague, newly-appointed Bears head coach Mike Haviland.

In 180 regular-season games with ECHL Hampton Roads, Chesapeake, Jackson and Atlantic City from 1997-2003, Mougenel totaled 105 points (46 goals, 59 assists) and 271 penalty minutes. He also played 95 games in the former International Hockey League with the Quebec Rafales and Cleveland Lumberjacks, and earned a brief stay in the AHL with the Rochester Americans in the 1999-2000 season.

Season tickets for the 2013-14 Hershey Bears regular season are on sale now by calling (717) 508-BEAR. Many different flexible plans are available and start as low as $165.



---