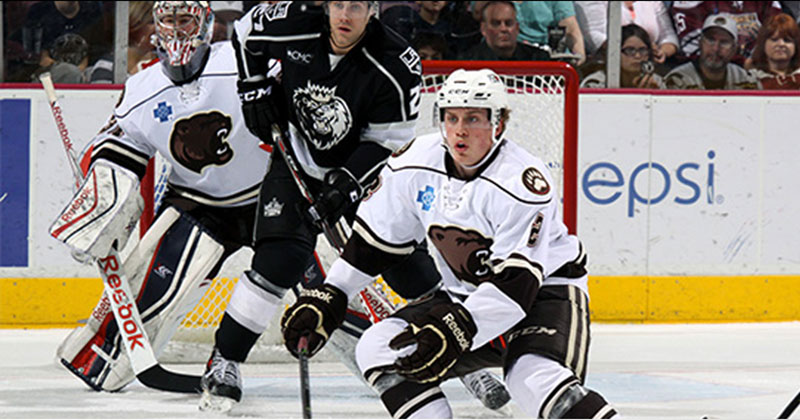 BEARS SNAP SKID WITH VICTORY OVER PENGUINS
November 17, 2012
HERSHEY, Pa.
– Garrett Mitchell scored twice – including a shorthanded penalty shot tally – and Braden Holtby made 23 saves to push the HERSHEY BEARS past the Wilkes-Barre/Scranton Penguins by a 4-1 count on Saturday night at GIANT Center. The win snapped the BEARS' three-game winless skid.
While the BEARS were killing their second penalty of the opening period, Mike Carman drew two Penguins to him while he made a pass across neutral ice to a breaking Mitchell. The BEARS winger was taken down on his scoring opportunity and was awarded a penalty shot. Going one-on-one with Penguins netminder Brad Thiessen, Mitchell snapped a wrist shot over Thiessen's glove at 12:19 to give the BEARS a 1-0 lead.
The Penguins then tied the score on a power play in the second period. From the right boards, Eric Tangradi sent a diagonal pass to the corner where Beau Bennett collected it. Bennett quickly fired a pass across the crease for Trevor Smith, who beat Holtby over the glove at 8:10.
Video replay was required to override the referee's original call of no goal when Mitchell sped around Penguins defenseman Dylan Reese and backhanded a shot under the crossbar at 15:29 of the second period. The goal counted and the BEARS regained their lead, with Zach Hamill and T.J. Syner earning the assists.
A late-period tripping call to Penguins blueliner Joe Morrow would then prove costly for the visitors. With time winding down in the frame, Garrett Stafford took a pass from Mathieu Beaudoin and hurried a wrist shot toward the net from the center point. The puck deflected to the left circle where Tomas Kundratek buried it with 0.4 seconds left on the clock, giving the BEARS a 3-1 edge.
Boyd Kane rounded out the scoring when he knocked down a long pass in the neutral zone that came from deep in the Penguins' end, and floated the puck into the empty net at 19:29.
The game would not end without fireworks, as Steve Oleksy and Wilkes-Barre/Scranton winger Bobby Farnham got together at the final horn, as did Penguins forward Dominik Uher and Kevin Marshall. Uher and Marshall were assessed game misconducts after all settled down.
Holtby improves to 4-4-0 on the season, while Thiessen drops to 2-2-0 with 17 saves on 20 shots. The BEARS and Penguins each finished the night 1-for-5 on the power play.
The BEARS remain home to host the Syracuse Crunch tomorrow, November 18 at 5:00 PM. The first 3,000 fans will receive a plastic bottle opener key ring courtesy of Hershey and Palmyra Pharmacies.
Tickets for this game and all HERSHEY BEARS home games are on sale now at the GIANT Center box office, by calling (717) 508-BEAR, or online at TicketMaster.com.
GAME RECAP: http://theahl.com/stats/official-game-report.php?game_id=1010073
---