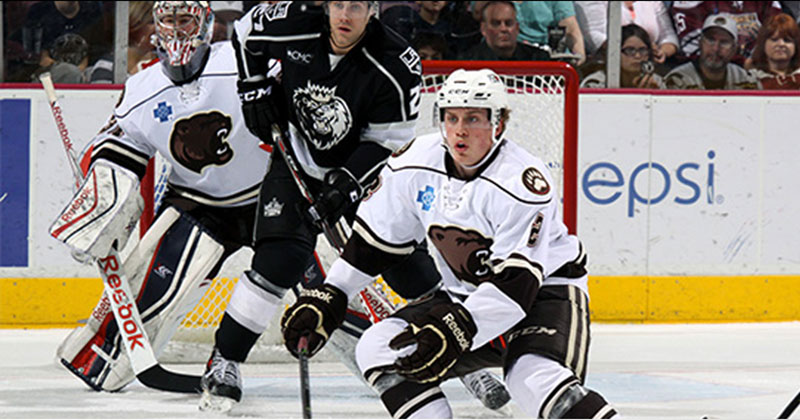 HERSHEY BEARS BEGIN NEW ERA IN 2012-2013
August 29, 2012
HERSHEY, Pa. – The HERSHEY BEARS this evening announced a new series of logos as well as a new look to team mascot Coco to begin in the 2012-2013 season. The announcements were made at a formal event for season ticket holders, club seat holders and suite holders by BEARS President/GM Doug Yingst.
"The HERSHEY BEARS have a legacy," Yingst said. "It is one that has lasted 74 years, and one that will be well-represented for a long time to come. The new HERSHEY BEARS logo represents that legacy. We return to our identity with the Chocolate and White colors, and blend a modern look into an historic icon."
The logo features a walking bear that was originally represented on the sweaters of the BEARS hockey clubs of the late 1930s through the mid 1940s. This new logo will adorn the club's home and road sweaters beginning with the 2012-2013 season, while the bear's head will be the lone crest on the HERSHEY BEARS' third jerseys.
Hershey Entertainment & Resorts Company's ongoing commitment to health and wellness has long been embraced by the Hershey Bears. This commitment was most recently demonstrated by their team mascot, Coco. Coco has undertaken a new health and fitness routine created by BEARS head trainer Dan "Beaker" Stuck, which emphasizes Coco's dedication to healthy choices and exercise. Coco proudly introduced his new trim physique at this evening's event. In addition to his appearances on HERSHEY BEARS game nights at GIANT Center, Coco will be making several appearances throughout the community as an ambassador for healthy living.
HERSHEY BEARS alumni Frederic Cassivi, Dave Parro and Mitch Lamoureux modeled the three new jerseys to be worn this season. BEARS head coach Mark French, assistant coach Troy Mann, head trainer Dan "Beaker' Stuck, goaltender Dany Sabourin, and logo designer Joe Bosack also participated in the evening's festivities.
---