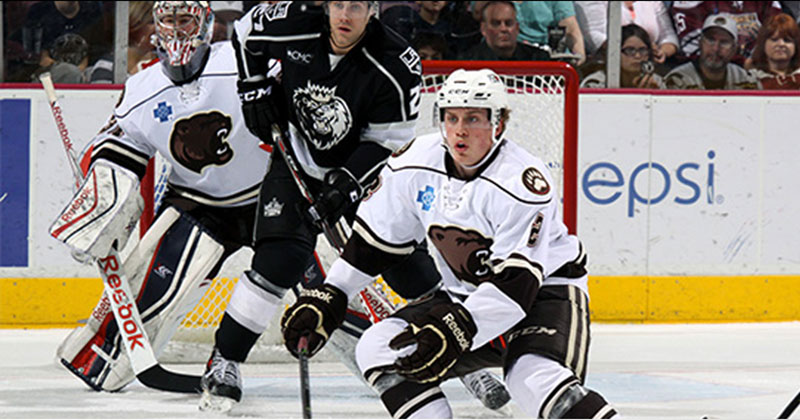 BEARS RELEASE 2012 TRAINING CAMP ROSTER
September 28, 2012
HERSHEY, Pa. – The HERSHEY BEARS announced today the full roster of players participating in the club's 2012 training camp. The announcement was made by BEARS President/GM Doug Yingst.
43 players will begin camp this coming Sunday, September 30, in preparation for the club's 75th season of play in the American Hockey League. Following physicals and meetings, the group of players will be split into two squads, with the first squad taking to the ice at GIANT Center at 10:30 AM.
The roster consists of the following players:
GOALTENDERS (5): Brandon Anderson, Philipp Grubauer, Braden Holtby, Sergey Kostenko, Dany Sabourin
DEFENSEMEN (14): Julien Brouillette, Adam Comrie, Brett Flemming, Tomas Kundratek, Kevin Marshall, Patrick McNeill, Steven Oleksy, Dmitry Orlov, Cameron Schilling, Garrett Stafford, Dustin Stevenson, Brad Walch, Patrick Wellar, Scott Wietecha
FORWARDS (24): Barry Almeida, Matt Beaudoin, Alex Berry, Mike Carman, Joel Champagne, David Civitarese, Matt Clackson, Jon DiSalvatore, Stanislav Galiev, Tyler Gron, Zach Hamill, Jon Kalinski, Boyd Kane, David Marshall, Garrett Mitchell, Danick Paquette, Matt Pope, Ryan Potulny, Mattias Sjogren, Ryan Stoa, T.J. Syner, Jeff Taffe, Jesse Todd, David Vallorani
As part of training camp, the BEARS will play a set of four pre-season contests. The team opens on the road at Broome County Veterans Memorial Arena on Wednesday, October 3, with a 7:05 PM faceoff against the Binghamton Senators. The Senators then visit Chocolatetown on Friday, October 5, with faceoff at GIANT Center set for 7:00 PM. The BEARS and Wilkes-Barre/Scranton Penguins will wrap up the pre-season with a home-and-home set beginning in Wilkes-Barre Township on Saturday, October 6 at 7:05 PM, and concluding in HERSHEY on Sunday, October 7 at 5:00 PM.
Individual tickets for the BEARS' two home pre-season games are currently on sale at the GIANT Center box office, by calling (717) 508-BEAR, or online at TicketMaster.com.
The BEARS open their home schedule of the 2012-2013 regular season on Saturday, October 20 with a 7:00 PM faceoff against the Rochester Americans. The first 8,000 fans will receive a team schedule magnet, courtesy of PNC Bank. Tickets for this game and all HERSHEY BEARS home games are on sale now through the above outlets.
---