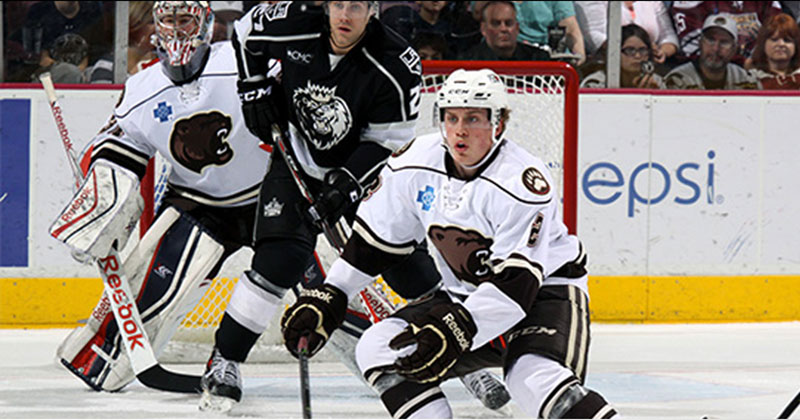 PENGUINS DEFEAT BEARS IN GAME FIVE, SEASON COMES TO END
April 28, 2012
WILKES-BARRE TOWNSHIP, Pa. – The Wilkes-Barre/Scranton Penguins scored twice in a span of seven seconds in the second period, and held off a furious battle by the HERSHEY BEARS in the third period en route to a 2-1 victory in Game Five of the Eastern Conference Quarterfinals, on Saturday night at Mohegan Sun Arena. The Penguins victory eliminates the BEARS from the postseason.
The two teams battled through a scoreless first period, with the BEARS outshot by a 9-5 margin. Dany Sabourin stood tall in the HERSHEY net, as did Brad Thiessen for the hosts.
Neither team earned a power play chance in the first period, after combining for 13 over the entire Game Four on Friday. Both teams did earn a chance in the second, but were unable to convert. But a double-minor high sticking infraction on Kyle Greentree proved costly for HERSHEY, as Cal O'Reilly scored to give the Penguins a 1-0 lead at 17:31. Colin McDonald won a battle for the puck along the right boards and then skated toward the net. He found O'Reilly driving the lane, and the Penguins forward chipped a one-timer over Sabourin's blocker.
Just seven seconds later, the Penguins dumped the puck in toward the left corner. A bad bounce saw the puck carom toward the left circle, and Zach Sill poked it through a BEARS defenseman and between Sabourin's pads for a 2-0 lead.
HERSHEY came out with a big jump in the third. After winning the faceoff, Ryan Potulny circled back and then turned up ice in a two-on-two rush with Boyd Kane. The two traded passes, then crisscrossed over the Penguins blue line. Potulny used a Penguins defenseman as a screen and ripped a wrist shot past Thiessen just 23 seconds into the period. But from there, the Penguins held the lead. The BEARS got Sabourin to the bench for an extra attacker, but were unable to tie the game.
Sabourin finished with 26 saves in the setback and finished 2-3 in the playoffs. Thiessen improved to 3-2, stopping 18 shots. The BEARS ended the night 0-for-2 on the power play and 2-for-3 on the penalty kill. The win moves the Penguins into the Eastern Conference Semifinals against the St. John's IceCaps.
HERSHEY BEARS season tickets for their 75th American Hockey League campaign are on sale now by calling (717) 508-BEAR.
Game Recap: http://theahl.com/stats/official-game-report.php?game_id=1009788
---