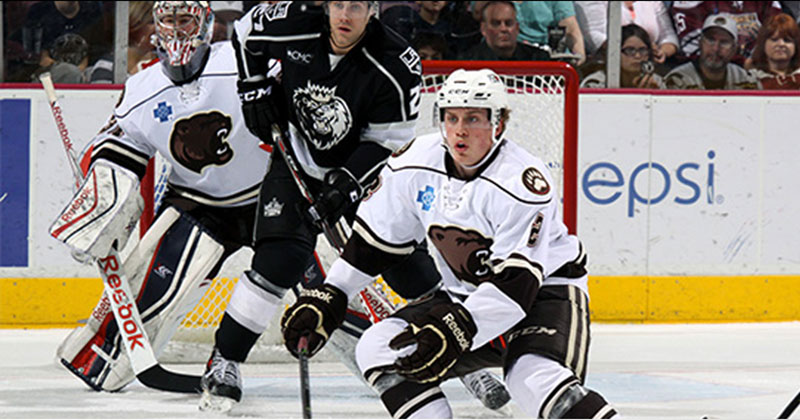 POTULNY PUTS UP ANOTHER PPG BUT BEARS FALL IN MANCHESTER
April 14, 2012
MANCHESTER, N.H. – Stefan Legein broke a 1-1 tie with a shorthanded goal, allowing the Manchester Monarchs to break out and claim a 5-1 win over the HERSHEY BEARS on Saturday afternoon at Verizon Wireless Arena.
The Monarchs struck first on a wraparound try by forward David Meckler. After carrying behind the BEARS net, Meckler's chance deflected past Daren Machesney off of the skate of Richard Clune at 5:34.
On the BEARS' first power play of the game, Chris Bourque's pass from the center point ended up squarely on the stick of Ryan Potulny, who one-timed his 19th power play goal of the season past Monarchs netminder Jeff Zatkoff at 10:24, tying the game.
But on the second HERSHEY power play, Legein broke in alone from the neutral zone on Machesney, deked to the backhand and slipped a shot over the goal line at 14:00 for a 2-1 Manchester lead.
Linden Vey made it 3-1 with 3:07 left in the first, when he deflected a point shot from Nick Deslauriers through Machesney's pads.
Both teams played a scoreless middle frame until the final 16 seconds, when Patrick Mullen took a slap shot from the middle of the slot that sailed past Machesney to give the Monarchs a 4-1 edge at the second intermission.
Scott Greenham played the third period in relief of Machensey, and immediately was tested when he faced a lengthy two-man advantage for Manchester. Legein collected a Jake Muzzin feed and slipped a pass across the top of the crease for Justin Azevedo. The Monarchs forward had a tap-in to beat Greenham at 5:26, rounding out the scoring.
Machesney falls to 0-2-1 with 12 saves on 16 shots in 40 minutes of work, while Greenham earned no decision in making seven saves in the third period. Zatkoff improves to 21-17-1 with a 19-save performance.
The BEARS ended the afternoon 1-for-3 on the power play and 5-for-6 on the penalty kill.
The BEARS record now stands at 38-25-4-8 (88 points) with one game remaining.
The BEARS will finish off the regular season tomorrow at 3:00 PM with a contest against the Worcester Sharks. Fans may listen to the game on the BEARS Radio Network partners 100.1-FM WQIC, 1230-AM WKBO, 93.7-FM HD2 WRVV, and online at whp580.com.
Tickets for Game "AA" of the Eastern Conference Quarterfinals against the Wilkes-Barre/Scranton Penguins, to be played on Wednesday, April 25 at 7:00 PM at GIANT Center, are on sale now and may be purchased by calling (717) 508-BEAR or by visiting ticketmaster.com.

Game Recap: http://theahl.com/stats/official-game-report.php?game_id=1009760
---