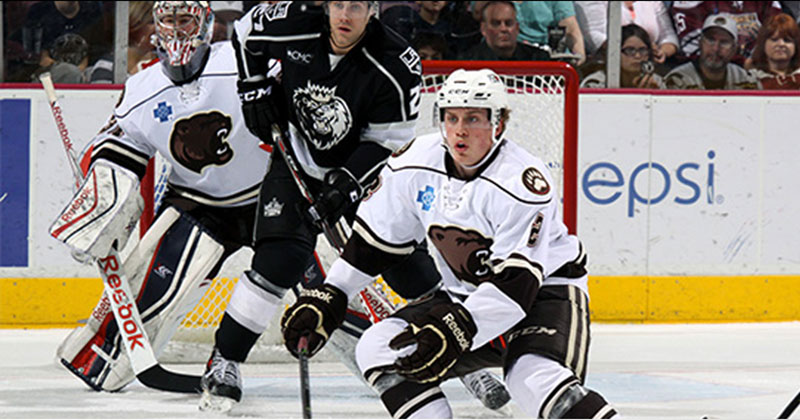 "DOC" EMRICK TO EMCEE HALL OF FAME NIGHT
December 20, 2014
HERSHEY, Pa. – The Hershey Bears Hockey Club announced today the return of a legendary voice to central Pennsylvania for the Hershey Bears Hockey Club Hall of Fame induction festivities. Mike 'Doc' Emrick, the long-time voice of the National Hockey League on NBC, will return for a third year to serve as emcee for the induction of the Hall's Class of 2014 in a ceremony prior to tonight's game against the Springfield Falcons at GIANT Center.

A 2004 recipient of the NHL's Lester Patrick Award and the 2008 recipient of the Hockey Hall of Fame's prestigious Foster Hewitt Memorial Award, Emrick has warmly welcomed invitations to help enshrine of some of the greatest players and builders in Hershey Bears history. A frequent returning visitor to central Pennsylvania, Emrick has had ties to, and knowledge of, many of the names that have already taken their place on GIANT Center's Hall of Fame wall.
On December 2, 2011, Emrick served as keynote speaker for "A Night at the Old Barn" – an event that celebrated HERSHEYPARK Arena's 75th anniversary of existence. As broadcaster for the AHL's Maine Mariners, Emrick first visited the historic building during the 1977-78 season.

Tonight, Emrick and the Hershey Bears Hockey Club will name the following five individuals as the Hershey Bears Hockey Club Hall of Fame Class of 2014: Nick Damore (player), Dunc Fisher (player), Jeannot 'Gil' Gilbert (player), Brent Hancock (general) and Arthur Whiteman (builder).

Current members of the Hershey Bears Hockey Club Hall of Fame include: Lloyd S. Blinco (builder), Arthur Fausnacht (official), Kenneth V. Hatt (builder), Gordon 'Red' Henry (player), Ralph Keller (player), Arnie Kullman (player), Willie Marshall (player), Frank Mathers (player-builder), J. Bruce McKinney (builder), Mike Nykoluk (player), John B. Sollenberger (builder) and Tim Tookey (player).

The Bears and Falcons will face off following the completion of the induction ceremony. The Bears will wear special Hall of Fame jerseys that will be auctioned off live following the game. All fans in attendance will receive a commemorative Hall of Fame-wrapped chocolate bar courtesy of the Hershey Company.


---