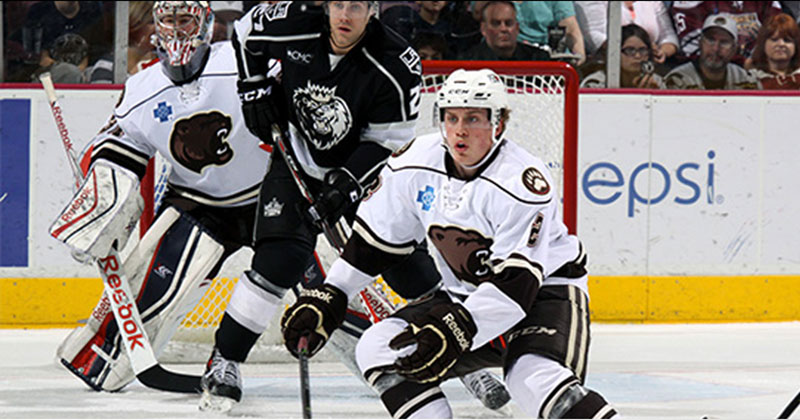 Bears Fall to Sound Tigers 5-4 Sunday
February 12, 2017
(Bridgeport, CT- February 12, 2017)-Zach Sanford and Riley Barber scored twice, but the Bridgeport Sound Tigers topped the Hershey Bears hockey team 5-4 on Sunday afternoon at the Webster Bank Arena. The Sound Tigers outshot Hershey 50-26 and ended Hershey's eight game point streak.

Just a night removed from scoring his first NHL goal with the Washington Capitals, Sanford rejoined Hershey and made an immediate impact. With Hershey trailing 2-0, Sanford scored his 10th goal of the season at 11:16 of the first period. Chandler Stephenson sent a pass to Sanford at the top of the crease, and the forward redirected the puck past Bridgeport's Jaroslav Halak to make it 2-1.

After Carter Verhaeghe scored his first of two goals for Bridgeport at 16:37 of the first period, Barber responded with the first of three power play goals for Hershey. The forward struck on a perfect passing play, as Paul Carey's quick centering pass found Barber open in the slot. His shot beat Halak past the blocker to make it 3-2 heading into the first intermission.

Sanford struck again to tie the game at 2:33 of the second period, knocking in a rebound to make it 3-3. Jakub Vrana's shot was denied by Halak's left pad, but Sanford backhanded the rebound over Halak to give him a multi-goal game.

The Sound Tigers responded with a pair of goals to take a lead they would never surrender. Tanner Fritz beat Vitek Vanecek with a wrist shot from the left wing at 7:29 to make it 4-3 Sound Tigers. The goal ended Vanecek's night. He was replaced by Parker Milner after allowing four goals on 26 shots.

Milner was sensational in relief, stopping 23 shots. The only goal he allowed was the eventual game-winning tally from Verhaeghe at 15:32 of the second period. Verhaeghe redirected Jesse Graham's point shot over Milner's shoulder to make it 5-3.

Barber would cut the lead to one on the power play at the 18:21 mark of the second period, but Hershey's was never able to find the equalizer.

The 50 shots allowed by Hershey was just four off from the franchise record of 54, most recently allowed in 1990 versus Binghamton.

Hershey went 3-for-5 on the power play while Bridgeport was 0-for-5.



---