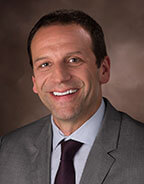 Vice President of Hockey Operations:
Bryan Helmer
Bryan Helmer was named Hershey's Vice President of Hockey Operations in July 2016, moving to the front office after spending time as a player and assistant coach with the Bears during his Hall of Fame career.
Read Full Bio
After spending two seasons working on Troy Mann's staff as an assistant coach, Helmer was named the Vice President of Hockey Operations following the retirement of General Manager Doug Yingst. Helmer, a native of Sault Ste. Marie, Ontario, oversees the day-to-day operations of the club's hockey department. He works closely with team's coaching staff, as well as the Washington Capitals, Hershey's NHL affiliate, on all decisions involving players and personnel.
Helmer was inducted in the AHL Hall of Fame in 2017 after an illustrious playing career. He is the AHL's all-time leader in points by a defenseman. He recorded 564 points (129 goals, 435 assists) in a remarkable 20-year career that totaled 1,117 regular-season games. Helmer is also the AHL's all-time leader in Calder Cup playoff appearances, having played in 159 postseason games. He won three Calder Cups in his career, including captaining the Bears to back-to-back titles in 2009 and 2010. Helmer also played 146 games in the NHL with Phoenix, St. Louis, Vancouver and Washington, totaling 26 points (eight goals, 18 assists).
Prior to returning to Hershey, Helmer served as an assistant coach with the Peterborough Petes of the OHL in 2013-14. Helmer resides in the Hershey area with his wife Pam, son Cade, and daughter Rylan.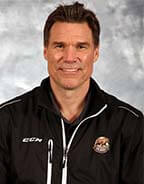 Head Coach:
Troy Mann
Troy Mann is in his fourth season as the head coach of the Hershey Bears. He was named the 25th head coach in team history in July 2014, and has guided Hershey to the Calder Cup Playoffs in all three of his seasons at the helm.
Read Full Bio
Troy Mann returns for his fourth season as the head coach of the Hershey Bears in 2017-18. Only five coaches in the franchises' 80 year history have more wins than Mann. The native of Campbellton, New Brunswick became the 11th coach in team history to accomplish 100 victories when Hershey beat Springfield, 4-3, on Nov. 26, 2016. Mann has guided the Bears to an East Division title in 2014-15, and an Atlantic Division title in 2015-16. He has won a playoff series in each of his three seasons behind the bench. During the 2016 Calder Cup Playoffs, Mann led Hershey to the Calder Cup Final for the 23rd time in franchise history.
Mann returned to Hershey as the team's head coach in 2014 after a successful 36-30-2-4 season as head coach of the Bakersfield Condors of the ECHL during the 2013-14 campaign. Prior to departing for Bakersfield, Mann was as an assistant coach for the Bears from 2009-2013, serving on Mark French's staff during Hershey's record-breaking 2010 Calder Cup championship season. During that season, the club finished with an AHL-record 60 wins and 34 home wins en route to a second consecutive Calder Cup title. Hershey's penalty kill thrived under Mann's watch, as the Bears finished in the AHL's top ten in all four of his seasons as assistant coach, including a league-best 87.4% in 2009-10. Mann was also behind the bench for two AHL All-Star Classics (2010, 2011).
Mann has had a hand in developing numerous defensemen who played both in Hershey and in Washington, such as Karl Alzner, John Carlson, Dmitry Orlov, and Nate Schmidt. Prior to joining Hershey, Mann served as associate head coach of the ECHL's Charlotte Checkers in 2008-09, and as head coach of the ECHL's Columbia Inferno from 2006-08. As a player, Mann won the Kelly Cup championship as a member of the ECHL's Mississippi Sea Wolves in 1998-99, playing for former Bears and Capitals head coach Bruce Boudreau.
Mann resides in Hershey with his wife Lori and daughter Larissa.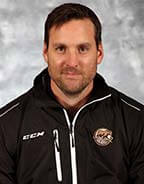 Assistant Coach:
Reid Cashman
Reid Cashman returns for his second season as a member of Troy Mann's staff, working with the club's defense and penalty kill.
Read Full Bio
Reid Cashman joined the Hershey Bears staff in 2016 after a successful tenure at Quinnipiac University. In Cashman's first season behind the bench in Hershey, the Bears finished fourth in the AHL in shots against, and advanced to the second round of the Calder Cup Playoffs.
Cashman, a Minnesota native, coached at his alma mater for six seasons prior to joining the Bears. At Quinnipiac, he spent four years as an assistant coach, and two as an associate head coach, leading the Bobcats to the Frozen Four in 2012-13 and 2014-15. The Bobcats were 129-48-28 during Cashman's tenure. As a player, Cashman was a three-time All-American defenseman at Quinnipiac, graduating in 2007. He then played five seasons professionally, including playing for Troy Mann with the Columbia Inferno in 2007-08. He won the Kelly Cup with the Cincinnati Cyclones in 2010, and skated in 68 career AHL games with Toronto, Wilkes-Barre/Scranton, and Milwaukee.
Cashman resides in the Hershey area with his wife, Stef, and their daughter Maggie.
Assistant Coach:
Ryan Murphy
Ryan Murphy is in his fourth season as an assistant coach with the Hershey Bears, working with the club's forwards and power play.
Read Full Bio
The 2017-18 season marks Ryan Murphy's fifth consecutive season working with Troy Mann. Hired as an assistant coach by Mann in Bakersfield in 2013, Murphy followed Mann to Hershey in 2014. He spent the 2014-15 season on the Hershey coaching staff specializing in the breakdown of video, and was promoted to a full-time assistant coach the following year. In Murphy's three years in Hershey, the power play has finished in the top-10 of the AHL twice, including ranking fifth during the 2016-17 season. Last year, Hershey's offense finished third in the league in goals for, and the club advanced to the playoffs for a third consecutive year. Murphy has helped guide the Bears to a pair of division titles, and an appearance in the 2016 Calder Cup Finals.
Prior to moving behind the bench, Murphy, a forward, played five seasons of professional hockey, including 138 career AHL games with the Manchester Monarchs. He scored 32 points (17 goals, 15 assists) and added 54 points (15 goals, 39 assists) in 93 career games with the Charlotte Checkers of the ECHL. A graduate of Boston College, Murphy played a large role for BC's hockey team, scoring 59 points in 156 career games and winning the club's Coaches Award his senior season for hard work, leadership, and selflessness.
Murphy was originally selected by the Los Angeles Kings in the sixth round (185th overall) of the 2002 NHL Entry Draft. He resides in the Hershey area.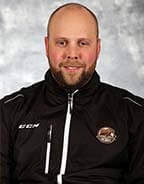 Video Coach:
Mike King
Mike King returns to the staff in 2017-18 and enters his second season as Hershey's Video Coach.
Read Full Bio
Mike King is in charge of video breakdown and analysis, a component Hershey's coaching staff uses a great deal for instruction, development, and game planning. He assisted Hershey's coaching staff during the club's run to the Calder Cup Finals in 2016, and joined the staff full-time in 2016-17.
Prior to joining the Bears, King spent two seasons as a skills and development coach with the Sudbury Wolves of the OHL. King worked under former Hershey head coach Paul Fixter, and also served as skills coach and Director of Player Development at RHP Hockey Training Centre in Sudbury. King's client list included several NHL players including Nick Foligno of the Columbus Blue Jackets. King also spent a year as an assistant coach with his former junior team, the Laconia Leafs, in 2010-11. King played Division-III college hockey at Curry College and Franklin Piece University. The defender also played professional hockey with the Evansville Icemen of the AAHL in 2010
King currently resides in the Hershey area.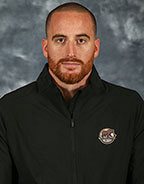 Strength & Conditioning Coach:
Mike Wagner
A Hershey native, Wagner has experience working with the University of Maryland, Millersville University and, most recently, Villanova University. Wagner has a Masters Degree in Exercise Science and Health Promotion with a concentration in Injury Prevention and Performance Enhancement.