Meet the Team
Get to know the power behind the Hershey Bears bench.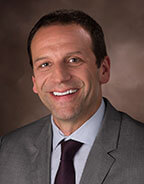 Vice President of Hockey Operations:
Bryan Helmer
Playing under head coach Troy Mann's guidance and serving as captain of the Hershey Bears' record-setting 2009-2010 season, Bryan Helmer returns to Hershey after making his behind-the-bench debut as assistant coach of the OHL's Peterborough Petes.
Read Full Bio
The 41-year-old Helmer, a native of Sault Ste. Marie, Ontario, is the American Hockey League's all-time leader in points by a defenseman. He recorded 564 points (129 goals, 435 assists) in a remarkable 20-year career that totaled 1,117 regular-season games - a number which ranks third in AHL history. Helmer is also the AHL's all-time leader in Calder Cup playoff appearances, having played in 159 postseason games. He has piled up 59 points (14 goals, 45 assists) and celebrated the AHL championship three times (Albany, 1995; Hershey, 2009 and 2010). He wore the "C" in both of Hershey's back-to-back league titles.
Helmer also earned two postseason All-Star Team recognitions during his time in the AHL, and while playing with the Oklahoma City Barons in 2010-2011, he was awarded the Fred T. Hunt Memorial Award as the player who best exemplified the qualities of sportsmanship, determination and dedication to hockey.
Helmer's National Hockey League career featured 146 games played with Phoenix, St. Louis, Vancouver and Washington. He has a total of 26 points (eight goals, 18 assists) in the NHL.
Helmer resides in Hershey with his wife Pam, son Cade and daughter Rylan.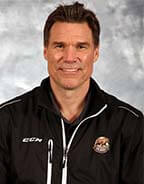 Head Coach:
Troy Mann
Troy Mann, 46, was named the 25th head coach in Hershey Bears history in July of 2014, Mann served as assistant coach during the 2010 Hershey Bears Calder Cup Championship.
Read Full Bio
Troy Mann, 46 returns to the bench of his one and only AHL home. Having already helped guide the club to the 2010 Calder Cup championship and three subsequent postseason appearances while serving as assistant coach, he added another accolade - the 2014-15 East Division championship. Mann led the Bears to a record of 46-22-5-3, assuring the club its first 100-point regular season since the AHL reduced its schedule to 76 games in 2011-12. The Bears were one of only four teams in the league to reach the plateau, and immediately followed with their first playoff series victory since the 2010 Calder Cup title.
Prior to his return to Chocolate Town, the native of Campbellton, New Brunswick helped turn the season around for the ECHL's Bakersfield Condors in 2013-14. The Condors advanced six games into the Western Conference finals under Mann's leadership, the furthest the team has ever played. Bakersfield finished with a regular-season record of 36-30-2-4 under Mann, good for second in the ECHL's Pacific Division.
Mann's career in Hershey spanned four years, beginning with the Bears' record-setting 2009-10 campaign. The club finished with an AHL-record 60 wins and 34 home wins en route to a second consecutive Calder Cup title. Hershey's penalty kill thrived under Mann's watch, as the Bears finished in the AHL's top ten in all four of his seasons as assistant coach, including a league-best 87.4% in 2009-10.
Mann has had a hand in developing numerous defensemen who played both in Hershey and in Washington, such as Karl Alzner, Julien Brouillette, John Carlson, Steve Oleksy, Dmitry Orlov, Cameron Schilling and Nate Schmidt. He was also behind the bench for two AHL All-Star Classics (2010, 2011).
Prior to joining Hershey, Mann served as associate head coach of the ECHL's Charlotte Checkers in 2008-09, and as head coach of the ECHL's Columbia Inferno from 2006-08. As a player, Mann won the Kelly Cup championship as a member of the ECHL's Mississippi Sea Wolves in 1998-99, playing for former Bears and Capitals head coach Bruce Boudreau.
Mann resides in Hershey with his wife Lori and daughter Larissa.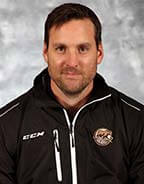 Assistant Coach:
Reid Cashman
Reid was coached by Mann during the 2007-2008 season when Mann was head coach of the Columbia Inferno (ECHL), the then affiliate of the Toronto Maple Leafs (NHL).
Read Full Bio
The 33 year-old, Minnesota native, graduated from Quinnipiac University. Following college, he played various East Coast Hockey League (ECHL) and American Hockey League (AHL) teams during his five-year professional career. In 2011, Cashman returned to Quinnipiac University as a coach, where he has been for the past five seasons. This past season, Cashman assisted in the team clinching a school high record of 32-4-7 with 43 points.
Reid is the current record-holder at Quinnipiac University for career assists with 125. He also holds the single-season defenseman records for assists in 2006-2007 with 35 and in 2004-2005 with 45.
Reid currently resides in Cheshire, Connecticut, with his wife, Stefanie. They will be relocating to Hershey, PA, for the upcoming hockey season.
Assistant Coach:
Ryan Murphy
Ryan Murphy will stay united with head coach Troy Mann after serving as his assistant with the ECHL's Bakersfield Condors in 2013-14. Murphy played five seasons of pro hockey, including parts of five in the American Hockey League.
Read Full Bio
Under Murphy's guidance, the Condors finished fourth in the ECHL in penalty killing success (85.9%), while the defensive corps ranked eighth overall in goals-against per game average (2.81). Murphy was instrumental in taking Bakersfield through their longest playoff run in team history, a six-game Western Conference Finals battle against the eventual league champion Alaska Aces.
Murphy's player history includes 138 career AHL games, Murphy tallied 32 points (17 goals, 15 assists), and he added 54 points (15 goals, 39 assists) in 93 career games with the ECHL's Charlotte Checkers.
Prior to turning pro, Murphy played four years at Boston College (HE), recording 59 points in 156 career games. He was lauded as the club's Coaches Award winner during his senior season for hard work, leadership and selflessness.
Murphy was originally selected by the Los Angeles Kings in the sixth round (185th overall) of the 2002 NHL Entry Draft.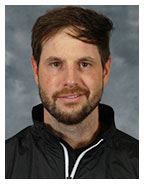 Associate Goaltending Coach:
Scott Murray
Scott Murray joins the Washington Capitals organization after spending the past five seasons as the goaltending coach for the Sudbury Wolves of the Ontario Hockey League.
Read Full Bio
Murray, 35, played college hockey at Lake Superior State University. The St. Clements, Ontario, native also played for the San Angelo Saints (Central Hockey League) and Motor City Mechanics (United Hockey League) during his professional career.
During his first season with Hershey in 2013-14, Murray was instrumental in monitoring the goaltending tandem of Philipp Grubauer and David Leggio. A crop of future talent, including Pheonix Copley and Vitek Vanecek, will rely heavily on Murray's expertise.
He and his wife Renee have three children, a son Tylar and two daughters, Ella and Liv.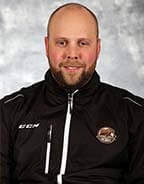 Video Coach:
Mike King
King was in charge of player development for the Sudbury Wolves, Ontario Hockey League (OHL), as the Development Coach from 2013-2015. King is originally from Conway, New Hampshire.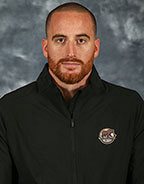 Strength & Conditioning Coach:
Mike Wagner
A Hershey native, Wagner has experience working with the University of Maryland, Millersville University and, most recently, Villanova University. Wagner has a Masters Degree in Exercise Science and Health Promotion with a concentration in Injury Prevention and Performance Enhancement.