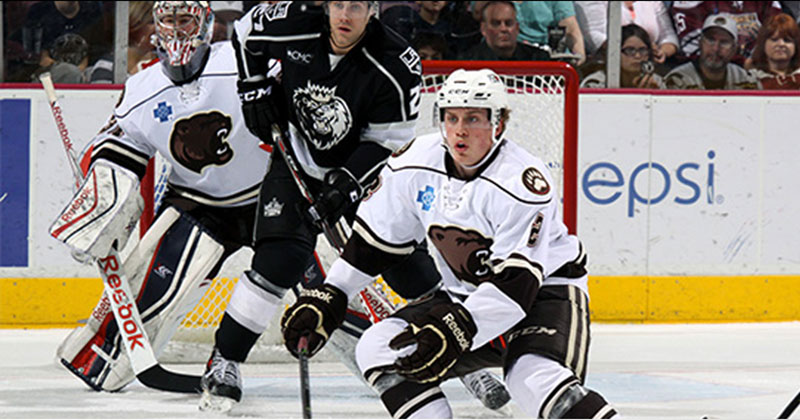 Game Preview: Sound Tigers at Bears, 7 p.m.
March 16, 2018
Bridgeport Sound Tigers (31-23-5-3) at Hershey Bears (25-29-4-5)
Friday, March 16, 2018, 7 p.m.
Giant Center
REFEREES: Reid Anderson (49), Chris Pontes (21)
LINESMEN: Libor Suchanek (60), J.P. Waleski (14)
Broadcast Information (Pre-game 6:30 p.m.)
RADIO: WQIC-100.1 FM, Fox Sports 1460-AM, Listen in Giant Center at 88.9 FM, Zack Fisch, the Voice of the Bears, and Mitch Lamoureux on the call
LISTEN LIVE: Fox Sports AM-1460 Stream
WATCH LIVE: AHLLive.com

SOUND TIGERS AT BEARS: The Hershey Bears host the Bridgeport Sound Tigers this evening at Giant Center as the club opens another three games in three days. Bridgeport, who has beaten Hershey three times this season, has won two straight games overall, and is 7-3-0-0 over the past 10 games. The Bears are coming off two straight losses in which they failed to score a goal.

LAST TIME OUT: The Bears take the ice tonight for the first time since a 3-0 loss to Grand Rapids last Sunday at Giant Center. Hershey came up empty handed for the second straight game, and were outshot 23-21 by the defending Calder Cup Champions. Former Bear Matthew Ford scored the game-winning goal at 12:16 of the opening period, while Ben Street added a pair of goals in the win for the Griffins. Matt Puempel tallied a pair of assists for Grand Rapids, and Tom McCollum was perfect in goal. The Sound Tigers played in the AHL's lone game last night, earning an impressive 6-4 comeback win over Rochester on home ice. The Sound Tigers trailed 4-0 only 1:13 into the second period, but roared back, scoring six unanswered goals. Travis St. Denis had a hat-trick, and finished the night with five points, tying a franchise record. Former Bear Ryan Bourque had two goals.

LAST TIME VS. BRIDGEPORT: Tonight is the first meeting between these two clubs since Jan. 27, a 3-1 Bridgeport win in Connecticut. The loss was Hershey's second of the same score at the Webster Bank Arena this season. After a scoreless first period, the Sound Tigers opened the scoring in the middle frame as Scott Eansor notched his 15th goal of the year at 8:00. Eansor would double Bridgeport's lead, scoring on the power play at the 8:04 mark of the third period, knocking a rebound past Hershey goaltender Pheonix Copley. Hershey responded exactly five minutes later with a power play goal of its own. Nathan Walker finished a pretty passing play, redirecting a Travis Boyd feed past Bridgeport netminder Christopher Gibson. Hershey pressed late, but Ben Holmstrom put the game out of reach with an empty net goal in the final minute.

BLANKED BACK-TO-BACK: The Bears have not scored a goal in a span of 126:38, dating back to Aaron Ness' third period, game-winning goal in a 2-1 victory at Syracuse last Friday. Hershey has been shutout in back-to-back contests by Binghamton and Grand Rapids, firing only 39 total shots in the two games, while going a combined 0-for-8 on the power play. Hershey has now been shutout six times this year, which ties a club record for the most shutout losses in a season set by the 1961-62 Bears. The back-to-back shutouts mark the first time the Bears have been blanked in two straight games since the 2015-16 season. Hershey was defeated 7-0 in Wilkes-Barre/Scranton on Nov. 13, 2015, then fell to Bridgeport 5-0 at the Giant Center on Nov. 14, 2015.

BOWEY'S BACK AS A BEAR: The Washington Capitals re-assigned defender Madison Bowey to the Bears on Tuesday. Bowey, 22, appeared in Hershey's first game of the season on Oct. 7 at Lehigh Valley, registering two penalty minutes. He was recalled by the Capitals on Oct. 14, and made his NHL debut that night in Philadelphia. He has appeared in 51 games with the Capitals this season, posting 12 assists and 24 penalty minutes. Bowey spent the previous two seasons with the Chocolate and White, skating in 105 career games, scoring 43 points (seven goals, 36 assists) and posting a plus-26 rating. The blue liner had 14 points in an injury shortened season in 2016-17 as a slight laceration of the tendon on his ankle on Dec. 28 caused him to miss 32 games. He returned in time for the playoffs, notching four points (two goals, two assists) in 10 games, including the overtime winning goal in Game 5 of the Atlantic Division Finals at Providence.

SOUND SPECIAL TEAMS: The Sound Tigers are in the middle of the pack in the AHL on the power play, ranking 16th, however, they have dominated on the man-advantage vs. Hershey this season. Bridgeport is 5-for-13 (38.5%) on the power play against the Bears this season, getting power play goals from Scott Eansor (2), Tanner Fritz, Michael Dal Colle, and Ryan Bourque. On the other side of things, Bridgeport has one of the best penalty kills in the league, ranking 4th in the AHL at 85.6%. They were 6-for-7 last night on the penalty kill vs. Rochester.

TGIF!: Tonight is Hershey's first and only Friday home game this season. The last time the Bears played a Friday home game was nearly one year ago to the day, as Hershey defeated Hartford, 4-3, at the Giant Center on Mar. 17, 2017. Christian Djoos, now with the Washington Capitals, had four points that night, including the overtime winning goal. Hershey went 3-0-0-0 last season on Friday nights, also beating Syracuse 5-1 on Nov. 18, and Bridgeport 6-2 on Dec. 30.

BEARS-SOUND TIGERS FAST FACTS: Forwards Riley Barber and Mason Mitchell are not expected to play this weekend with upper-body injuries…Despite going 0-1-0-1 vs. Bridgeport, Pheonix Copley has a 1.94 goals against average and .930 save percentage vs. the Sound Tigers this season…Bridgeport forward Ryan Bourque, a former Bear, is having a fantastic season. He has 27 points (ten goals, 17 assists) in 61 games with the Sound Tigers, more points (19) than he had in 72 career regular season games with the Bears…Hershey's Joe Whitney was a member of Bridgeport in 2015-16, scoring 33 points (14 goals, 19 assists) in just 36 games…Bridgeport head coach Brent Thompson was a former Hershey Bear, spending parts of three seasons with the Chocolate and White (2000-01 to 2002-03). He served as the captain of the club in 2002-03.
---