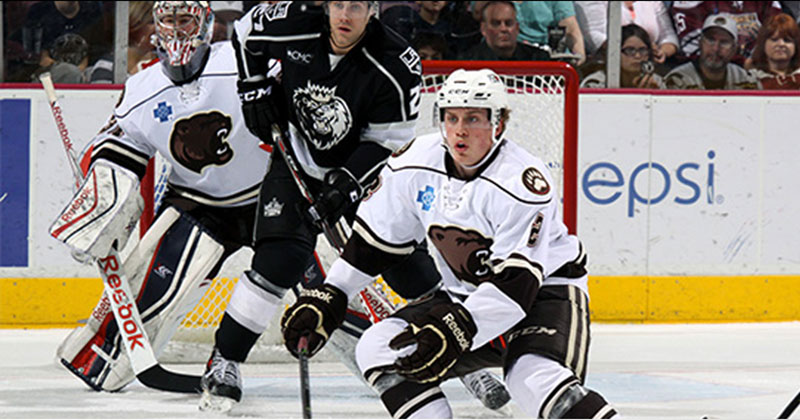 Pink The Rink Game Preview: Hartford at Hershey, 5 p.m.
October 29, 2017
Hartford Wolf Pack (4-4-0-1) vs. Hershey Bears (2-5-0-1)
Sunday, October 29, 2017, 5 p.m
Giant Center
REFEREES: Conor O'Donnell (6), Alex Garon (64)
LINESMEN: Tom George (61), Bill Lyons (27)

Broadcast Information (Pre-game 4:30 PM)
RADIO: WQIC-100.1 FM, Fox Sports 1460-AM, Hershey Bears App--Zack Fisch, the Voice of the Bears, and Mitch Lamoureux on the call
LISTEN LIVE: Fox Sports AM-1460 Stream, Caps Radio 24/7
WATCH LIVE: AHLLive.com

WOLF PACK AT BEARS: The Hershey Bears close out a three-game weekend versus the Hartford Wolf Pack this evening. The Bears are coming off their first victory at the Giant Center of the season last night as they topped Providence, 3-2. The Wolf Pack are also coming off a victory as they defeated Lehigh Valley, 5-4. Last season Hershey went 5-2-1-0 versus Hartford, and over the past five seasons Hershey is 11-6-1-4 versus Hartford, with seven of those wins coming at Giant Center. Tonight is Mixed-Up Productions Pink The Rink as the Bears support the fight against breast cancer.
LAST NIGHT'S RESULTS: Last night Hershey earned a 3-2 victory over the Providence Bruins at Giant Center. The win was Hershey's second victory of the season and snapped Providence's four-game win streak. Hershey went a solid 3-for-6 on the power play and held Providence to 1-for-7 on the man advantage. Three different Hershey players scored their first goal of the season as Liam O'Brien, Travis Boyd, and Connor Hobbs all tallied. Hobbs' goal was his first professional goal and served as the game-winning marker. Chris Bourque and Boyd each notched three points, with Bourque assisting on all three tallies. Hershey netminder Parker Milner earned his first win in six tries this season, stopping 18 Providence shots to improve his record to 1-4-0-1. The Wolf Pack also earned a win yesterday, knocking off Lehigh Valley in Allentown, 5-4, in comeback fashion. The win snapped a four-game losing streak for the Wolf Pack. Cole Schneider scored the game-winning goal late in the third period for the Wolf Pack.
FIRST FOR HOBBS: Defenseman Connor Hobbs scored his first professional goal last night in Hershey's 3-2 victory over the Providence Bruins. The Saskatchewan native tallied on the power play at 13:29 of the third period to give Hershey the lead. The goal stood as the game-winning tally, and Hobbs was named the game's first star. The 20-year-old rookie was originally a 5th round selection of the Capitals in 2015. Last season with the Regina Pats of the WHL, Hobbs enjoyed a record-breaking season, scoring 85 points, including 31 goals and 54 assists.
KILLER B'S: Bears forwards Travis Boyd and Riley Barber each posted big nights in yesterday's 3-2 win over Providence. Boyd tallied his first goal of the season and added two assists to post a career-best three point performance. Boyd has already tallied three multi-point contests this season. He had 12 multi-point contests last season as he led the Bears with 63 points and was named Hershey's Team MVP. Last season versus Hartford, Boyd led all skaters with 13 points (three goals, 10 assists) in the eight game season series. Bourque, a member of the Wolf Pack in the 2014-15 season, leads Hershey with nine points (two goals, seven assists). The veteran notched three assists last night. He has 648 points in 666 career AHL games.
PENN STATE GUY: Hartford defender Vince Pedrie is a product of nearby Penn State University. The blue liner helped Penn State to Big-10 championship last season, and earned First -Team All-Star honors. He posted 30 points (eight goals, 22 assists) in 39 games for Penn State last season, setting a school record for points in a season by a defender. He posted the second best plus/minus at +27. In 2015-16 while in State College, Pedrie was named Big-10 All-Rookie, and a Second-Team All-Star selection scoring 22 points in 32 games. The Apple Valley, Minnesota native was a member of the Clark Cup Champion Indiana Ice in 2013-14, and has a goal and an assist in four games this season.
BEARS-WOLF PACK FAST FACTS: Wolf Pack forward Steven Fogarty is from nearby Chambersburg, PA....defender Ryan Graves posted nine points (three goals, six assists) in the eight game season series versus Hershey last year. He has three assists so far this season…Hartford recently was assigned veteran forward Adam Cracknell. He has played 417 AHL games in his career, but tonight is his first ever game versus Hershey…Hershey's Zach Sill is seeking his first goal since Jan. 14. His next AHL goal will be the 50th of his career…Hershey has not yet led after the first period of a game this season…The Bears have outshot their opponent two games in a row. This is the first time Hershey has done that since they outshot Hartford on back-to-back nights at the Giant Center on Mar. 17-18.
---