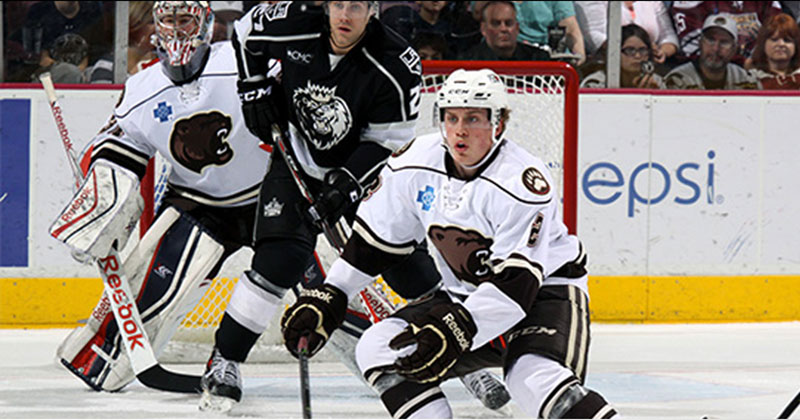 Join the Hershey Bears at Arooga's for a Great Cause
February 9, 2016
The Hershey Bears partner with Arooga's Grille House & Sports Bar and Running for Rachel for the fourth consecutive year on Wednesday, February 17th. The Hershey Bears love giving back to the community and this allows us not only to give back to a great charity but also gives our players the chance to interact with our fans.
Each of the locations will host a meet and greet with select Hershey Bears' players, an autograph signing, a silent auction with select items and give away discount Hershey Bears game tickets with donations to the charity (while supplies last).
WHAT: Running For Rachel fundraiser event in partnership with the Hershey Bears
WHEN: Wednesday, February 17, 2015 from 6 to 8 PM
WHERE: Arooga's Grille House & Sports Bar locations:
· Arooga's 15: 1300 Camp Hill Bypass, Camp Hill, Pa 17011
- Aaron Ness & Justin Peters
· Arooga's 11: 4713 Carlisle Pike, Mechanicsburg, Pa 17050
- Zach Sill & Madison Bowey
· Arooga's 39: 4301 Linglestown Rd, Harrisburg, Pa 17112
- Travis Boyd & Riley Barber
· Arooga's 22: 7025 Allentown Blvd, Harrisburg, Pa 17112
- Liam O'Brien & Connor Carrick
· Arooga's Hershey: 637 E. Main St, Hummelstown, Pa 17036
- Ryan Stanton & Erik Burgdoerfer
· NEW – Arooga's Lancaster: 125 S. Centerville Rd, Lancaster, Pa 17603
- Mike Moore & Tyler Lewington
*All players subject to change
Running for Rachel is a local non-profit hosted by Rachel's family and friends, the annual Running for Rachel 5K is held every April in memory of Rachel, who battled duodenal cancer. Duodenal cancer is a rare form of cancer which affects the small intestine, and is extremely difficult to treat. You can help support Running for Rachel, and many others who continue this battle, by attending any of the Arooga's on the 17th.
---