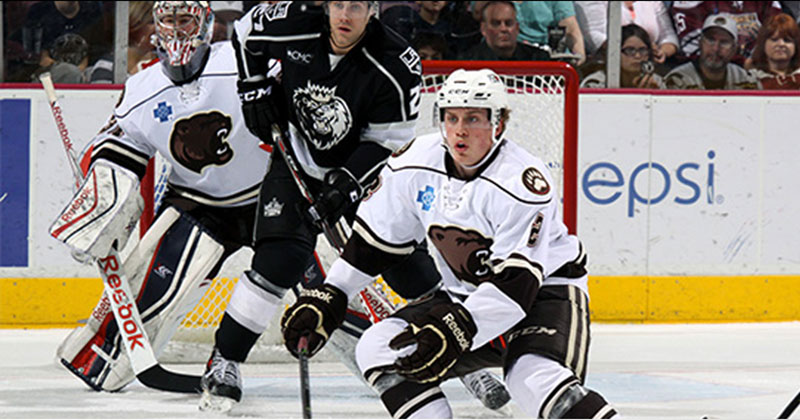 THREE-TIME CHAMPION BOURQUE RETURNS TO HERSHEY
July 2, 2015
HERSHEY, Pa. – The Hershey Bears announced today that the organization has signed forward Chris Bourque to a two-year, two-way NHL contract beginning with the 2015-16 season. The announcement was made by Bears president/general manager Doug Yingst.
"We are thrilled for our fans and our franchise to have Chris Bourque return to the Bears," Yingst said. "We cannot wait to see him back in Chocolate and White again."
Bourque has played 392 of his 510 career regular-season games with the Bears, which ranks 25th in all-time Hershey history. An incredible point-per-game average during his tenure places Bourque in a tie for 14th in all-time Bears scoring with 393 points (131 goals, 262 assists). He raised the Calder Cup three times in his career, all with the Bears, in 2006, 2009 and in 2010 – earning the Jack A. Butterfield Trophy as playoff MVP in 2010.
"That is where I spent a majority of my career, and obviously I feel very comfortable playing there, Bourque said. "With the coaching staff, management and everybody there, it's family to me by this point. It's a big thrill for me and my family because it is such a great town, and with the fans, there is not a better place to play in the American League."
While playing with the Bears, the 5-8, 170-pound winger led the AHL in assists (66) in the 2011-12 season, and tacked on 27 goals to earn the John B. Sollenberger Trophy as the league's leading point producer (93). He was named to the AHL's First All-Star Team in 2011-12 and, most recently, last season. Bourque is also a three-time AHL All-Star (2009, 2012, 2015).
The 29-year-old native of Boston, Massachusetts comes back to Hershey after spending the 2014-15 season with the AHL's Hartford Wolf Pack. He led the Pack in all statistics with 29 goals, 37 assists and 66 points, and also led the team in power play goals (11), assists (15) and points (26). Bourque's 26 power-play points ranked tied for second in the AHL, while his 66 overall points ranked fifth.
In his AHL career, Bourque's next point will be his milestone 500th. He currently has 171 goals and 328 assists over nine seasons spent with Portland, Hershey, Providence and Hartford. After leading the Wolf Pack in playoff scoring last season with 17 points (four goals, 13 assists) through 15 games, Bourque has dressed in 100 career Calder Cup postseason contests and totals 95 points (25 goals, 70 assists). His 95 points rank seventh all-time and his 70 assists rank seventh.
Bourque made overseas stops with the KHL's Mystishchi Atlant (2010-11), Swiss-A Lugano (2010-11), the KHL's Kazan Ak-Bars (2013-14) and Swiss-A Biel (2013-14), notching 49 points (23 goals, 26 assists). He has also recorded eight points (two goals, six assists) in 51 NHL games played with the Washington Capitals, Pittsburgh Penguins and Boston Bruins.
He was originally selected by Washington in the second round (33rd overall) of the 2004 NHL Entry Draft.
---